The Fourth of July means big-time fun in the United States! Celebrate Independence Day with us from all ends of Racine County. There are many parades, concerts and firework displays for you to enjoy while celebrating one of the most patriotic times of the year.
---

4th Fest of Greater Racine Fireworks; Photo: René Amado
4th Fest Party on the Square, July 3
Downtown Racine
The 4th Fest of Greater Racine is throwing a block party and Racine is invited! Strike up the Independence Day festivities at Monument Square on July 3 from 6 to 9 p.m. This family-friendly event features live music, food and beverage available for purchase, and 50/50 raffles. Proceeds support the 4th Fest parade and fireworks organized by the 4th Fest of Greater Racine.
Village of Sturtevant Fireworks, July 3
Sturtevant
The Village of Sturtevant will celebrate with its annual fireworks celebration on July 3 at 8 p.m. There will be food and beverage vendors. Parking is available beginning at 4 p.m. at Fireman's Park, 9630 Charles Street, Sturtevant.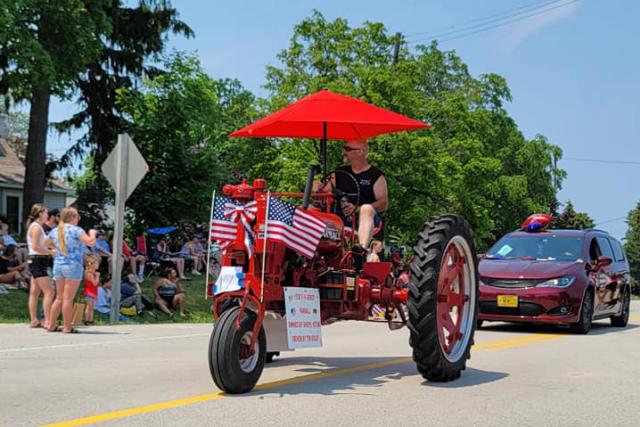 RCBO 4th of July Parade
RCBO 3rd and 4th of July Festival, July 3-4
Franksville
The Raymond Community & Business Organization (RCBO) will host a Fourth of July festival starting with the RCBO Car, Truck, Bike and Tractor Show on July 3 from 3:00 to 6:30 p.m. Food and beverage will be available for purchase. Enjoy live music by the Ricchio Project from 3 to 7 p.m. and Koltrane from 7:30 to 11:30 p.m. For those not showing off their vehicle, enter the festival grounds from the Raymond School parking area located​ behind Raymond School, 2659 S. 76th Street, Franksville.
Then join the Town of Raymond on July 4 at 10 a.m. with a pie contest. There will a children's parade at 1:10 p.m. followed by the main parade at approximately 1:45 p.m. After the parade, there will be a kid's pedal tractor pull, petting zoo and pony rides, silent auctions, cash raffles, and live music. The festivities will conclude with fireworks at 9:30 p.m.
July 3 RCBO Schedule  |  July 4 RCBO Schedule
4th Fest Parade of Greater Racine, July 4
Downtown Racine
The 4th Fest Parade of Greater Racine was cited by USA Today in 2008 as one of the "Top Ten" places to be in the country for Independence Day (just behind Washington, D.C.)! In fact, the entire Racine community--some years topping 100,000 spectators of the parade alone--is abuzz with Independence Day activities throughout the day.
There will be a pre-parade July 4 at 8:30 a.m. featuring the noisy police cars, fire engines, military vehicles, classic cars, tractors, and more. The main parade steps off at 9 a.m. A wide range of parade entries will include living statues, bands, floats, entertainers, and more that will stroll through the streets of downtown Racine starting at the intersection of Goold and Main Streets. The parade will go south down Main Street through downtown and onto 14th Street. The parade theme this year is "Made in America."
Stay safe during the parade! The 4th Fest of Greater Racine requests no silly string, poppers or firecrackers, and no crossing in front of parade units.
The parade also will be live on Channel 24 and livestreamed from the My24 website. Past parades are available on the Racine 4th Fest YouTube channel.
After the parade, head to North Beach and stake out your favorite spot to watch Racine's spectacular fireworks! Bring a blanket and a picnic basket and kick back until dusk. The annual fireworks show can be seen all along the Lake Michigan shoreline. The 4th Fest of Greater Racine fireworks are sponsored by The City of Racine and Festival Foods.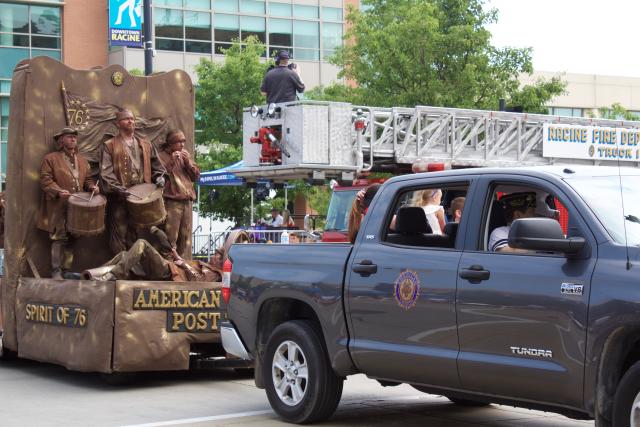 4th Fest Parade of Greater Racine
Union Grove 4th of July Parade, July 4
Union Grove
The Union Grove 4th of July Parade is a community celebration and a show of appreciation to current military members and veterans. The theme this year is "Star Spangled Everything." The parade will begin July 4 at 9:15 a.m. at the Racine County Fairgrounds and go east on Hwy 11, turn north on Hwy 45, and end at 7th Avenue.
Lions Club of Waterford July Fourth Parade, July 4
Waterford
The Lions Club of Waterford July Fourth Parade begins July 4 at 11 a.m. at 7th and Main Streets. The theme is "Proud to be an American." The parade will go west to Milwaukee Street and then north to Trailside School.
---
Looking for more fun? Visit our Things to Do page for everything going on in Racine County!