Racine County is a great place for bicycling in a bicycle-friendly state. With nearly 120 miles of designated bicycle routes and recreation trails, cyclists young and old can enjoy this family-friendly pastime. Cycling opportunities extend from the Lake Michigan shoreline to a scenic, paved 4-mile trail along the Root River in the City of Racine. Former railroad corridors provide easy pathways extending north, south, and west from the city. 

Lake Michigan Pathway
 
Length: 14 miles 
Terrain: Asphalt, concrete, crushed stone
Trail End Points: 3 Mile Road/MRK Trail and Douglas Ave. and Chicory Road/North Shore Trail by Lathrop Ave. & S. Memorial Dr. (Racine)

The 13.5-mile Lake Michigan Pathway keeps you in close touch with the sixth-largest freshwater lake in the world as it links rail-trails north and south of the port city of Racine. Along the way, the trail visits such attractions as beaches, marinas, parks, the zoo, and museums, as well as the revitalized downtown district.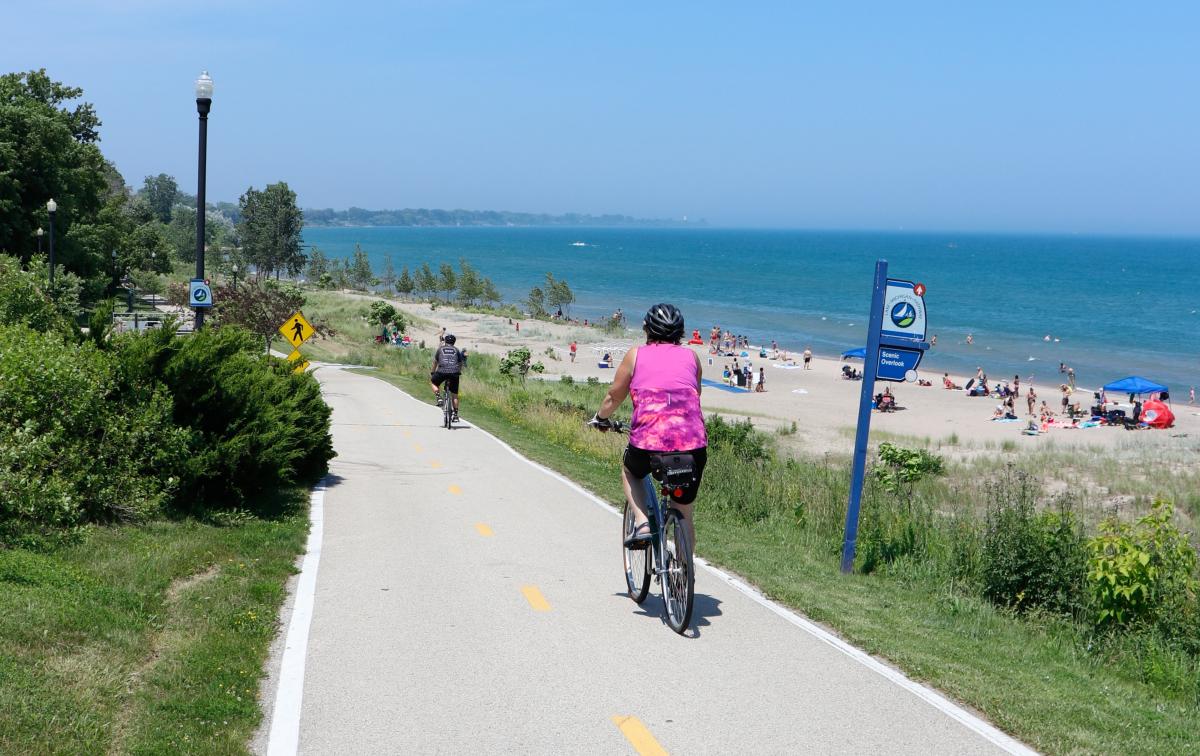 Lake Michigan Pathway
MRK Trail

Length: 4.6 miles
Terrain: Crushed Stone
Trail End Points: 6 Mile Rd. and Michna Rd. (Caledonia) and Layard Ave. just west of Douglas Ave./SR 32 (Racine)
Racine County's eastern edge is home to the MRK Trail, a rail-with-trail that extends north from the City of Racine to the Village of Caledonia. The trail, named for the Milwaukee-Racine-Kenosha rapid transit line that once traveled the route, has an industrial feel to it: an active Union Pacific rail line shares the corridor, and power lines drape the trail. You will notice a very gradual incline as you travel north, which is good news for the swift trip back to the southern end of the trail.
North Shore Trail
 
Length: 3 miles
Terrain: Asphalt
Trail End Points: 16th St. and West Blvd. (Racine) and Kenosha County Bike Trail at 1st St. (Racine-Kenosha county line)

Racine's southeastern neighborhoods are home to the North Shore Trail, which extends south to the Racine–Kenosha county line. On the recently paved rail-trail, greenery surrounds you, masking residences that border the path. Those who stay on the North Shore Trail will quickly be surrounded by classic Wisconsin farmland scenery as they leave the city.
Pike River Pathway
 
Length: 2 miles
Terrain: Asphalt
Trail End Points: Old Spring Street (east of Airline Road), Timmer Lane (southern terminus), Oakes Road (at Mariner Drive), Washington Avenue (at Case High School), Willow Road (at Racine County Trail/SCJ Waxdale), Durand Avenue (east of Cottage Drive)

The Pike River Pathway in Mount Pleasant is a paved trail that meanders north and south through the restored Pike River wetlands. It can be reached from the east-west Racine County Trail or at Case High School on Washington Avenue (Hwy. 20).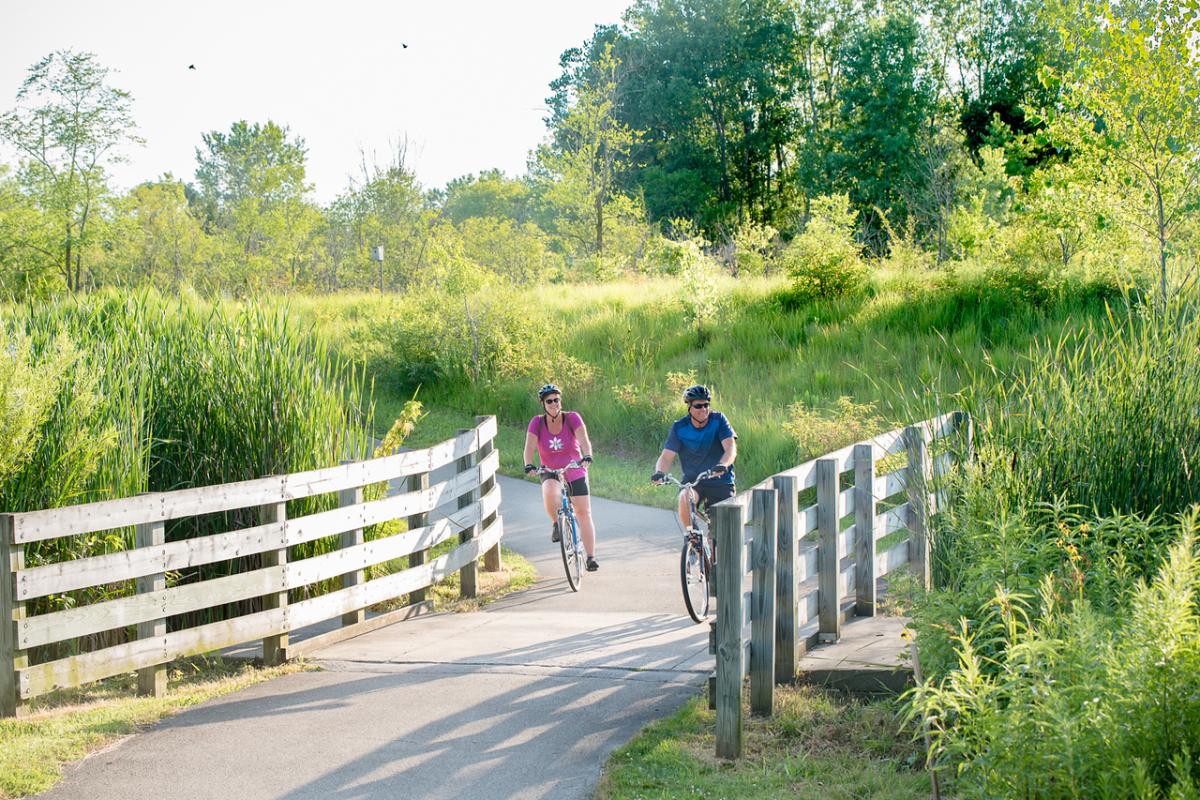 Pike River Pathway
Root River Pathway
 
Length: 6.6 miles
Terrain: Asphalt, Some Street Riding
Trail End Points: MRK Trail at Layard Ave. and Washington Ave. 

The Root River Pathway uses a combination of off-road trail and on-road route to form a crescent around the City of Racine. The trail closely follows the bends of the Root River, making it a great place to appreciate the waterway's natural beauty. Signposts along the way educate trail users about the river's significant role in the development of modern-day Racine.
Seven Waters Trail
 
Length: 17.6 miles
Terrain: Asphalt, Crushed Stone, Gravel
Trail End Points: Congress St. at Wehmhoff Jucker Park (Burlington) and SR 36 at US 45 (south of Franklin)

The Seven Waters Bike Trail is a scenic corridor stretching more than 17 miles north-south between Burlington and Muskego Lake into Waukesha County. You'll find parking, bathrooms, and picnic pavilions at this lovely community park. Traveling north from Riverside Park, you follow the east side of State Route 36. After crossing SR 36 you'll travel west through a pine forest before hitting a short, on-road detour. Back on the trail, the path returns to woods and crosses the Fox River.
White River State Trail
 
Length: 19 miles
Terrain: Concrete, Crushed Stone, Gravel
Trail End Points: Co. Hwy. H (Elkhorn) to Spring Valley Rd. at Burlington Bypass (Burlington) and Calumet St. at State St. (Burlington) to Vandenboom Road (Kansasville)

The White River State Trail extends east 7 miles from Burlington's Bushell Park to the town of Dover. The trail's western leg is just west of Burlington (off Spring Valley Road) and runs west 12 miles into Walworth County.
For maps and descriptions of Racine County cycling sites, click here for the Racine County Interactive Biking Map