Tucked away in Western Racine County and conveniently accessible from Milwaukee or Chicago, the communities of Waterford and Rochester offer the perfect amount of shopping, dining and various recreational activities for a day trip. Take a look at our list of must-do things while you're there.
---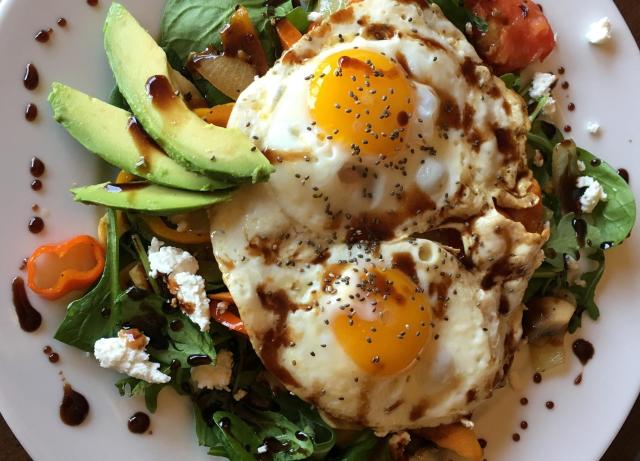 Cafe 213
Dining
 
For breakfast, stop at local favorite Café 213 in Waterford. Open for breakfast and lunch, Cafe 213 serves American bistro food that's familiar while introducing new tastes and ingredients that satisfy the foodies in their midst. Scratch-made batters, soups, salad dressings, sauces, locally roasted coffee, and bakery are what keep customers coming back. 
If you're looking for an early morning pep in your step, enjoy a fresh cup of coffee from Java Jo'z while exploring the 17 miles of Seven Waters Trail that will take you all the way through Waterford, Rochester and other neighboring communities.
Casual lunchtime dining is at its best at Crossover Cantina & Eatery. This newer addition to the Waterford area offers a dining menu packed with delicious authentic Tex-Mex inspired cuisine along with traditional American casual fare and a full-service bar.
If you like sports bars, you'll enjoy Spanky's Bar & Grill. This comfortable neighborhood sports bar features cool drinks, homemade thin crust pizza, fresh burgers, and wings as well as local musicians. Spanky's was voted Best of the West [of I-94] Pizza and 2nd Best Pizza in Racine County in The Journal Times 2021 Best of Racine County Awards.
Another fun option is Bruno's Restaurant, located at River City Lanes. Bruno's Restaurant is the only place in Western Racine County that offers bowling, volleyball, horseshoes, a full-service restaurant, bar, banquet center, wedding venue, party zone, and more.
For dinner, find country charm and casual culinary elegance in a beautifully restored turn of the century barn at the Cotton Exchange. Built originally in 1881, they're known for their long-standing tradition of providing unsurpassed southern cuisine and hospitality. A charming gift shop with baked goods and specialty coffees is available along with small group dining in the Silo or Cottonpatch.
If you like waterfront dining, you'll enjoy Doc's on the Fox. This casual riverfront spot has a seasonal roof deck located on the beautiful Fox River in Waterford. Try their steak or seafood with a cocktail, or their fish fry on Wednesday or Friday.
To satisfy your sweet tooth, stop for a scoop at Uncle Harry's Frozen Custard during their seasonal summer hours (new for summer 2022, try the Lemon Crunch Ice Cream Cake).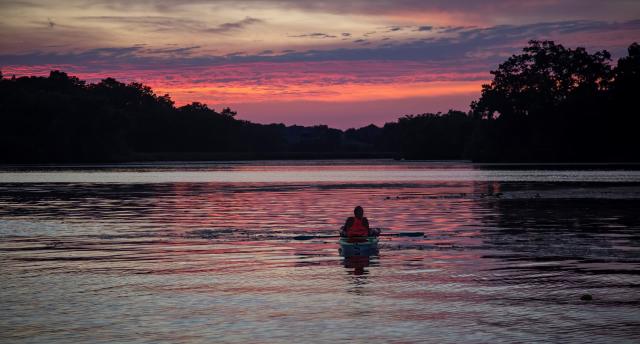 Fox River Water Trail; photo: Terry Alby

Things to Do
 
Paddle your woes away on the Fox River Water Trail. This 14-mile trail includes portages around dams at the Villages of Waterford and Rochester, and takes approximately seven to nine hours for the full trip, depending on water levels. This easy-to-paddle water trail passes through a lake, county parks and wildlife areas. Scenery includes farmland, wetlands and woods.
Launch sites have been established behind Waterford Village Hall,123 N. Water St., and at Case Eagle Park, 310 S. Rochester St. Both sites are below the dams.
If cycling is more your speed, the White River State Trail extends east seven miles from Burlington's Bushell Park to the town of Dover. The trail's western leg is just west of Burlington (off Spring Valley Road) and runs west 12 miles into Walworth County.
For the crafty day-trippers, Creative Spaces Studio is an art studio space offering fused glass, stained glass, mosaic, and fiber/fabric art (sewing and quilting) classes. The studio also invites artists to use this space during open hours to visit and create on their own.
For those who need a break, treat your mind, body and soul at Riverside Studio. Located along the Fox River, this women owned and operated full-service healing space offers yoga, meditation, reiki, coaching programs, compassionate peer support for mental health, special celestial events, and a full apothecary mind, body and soul crystal shop.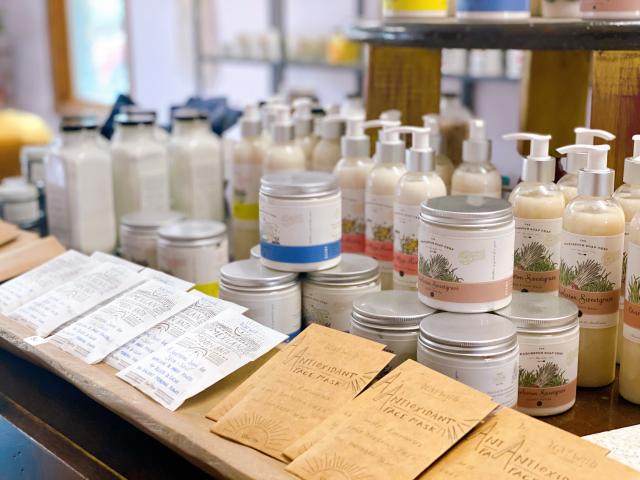 Main Street Mercantile

Shopping
 
In downtown Waterford, Main Street Mercantile has a wide collection of self-care confections. It also offers personally curated home and personal goods made by small American businesses and artisans in small batch quantities. Visit their neighbors at The Pink Peony Floral Shoppe for bright bouquets during any season of the year.
For antique enthusiasts, take a step back in time at the Waterford Unique Antique Market, which houses more than 60 vendors worth of treasures like primitives, antiques, shabby chic items, Amish chocolates, goats milk soap, local handmade candles, jewelry, barn wood furniture, vintage kitchenware, local art, handmade products, vintage trains and toys, and everything in between that showcases Western Racine County's equally unique history.
Nestled in the heart of Rochester, we suggest swinging by Fox & Fork. This cozy shop and unique hideaway offers up fun season décor, unique upcycled furniture, primitives, original antiques, and rustic country finds.
Celebrating its 25th anniversary in 2022, New To You is a women's consignment boutique in Rochester's historic downtown district. They offer fashionable clothing at reasonable prices with current fashion trends for juniors, misses and women's sizes.
In the fall, visit Ela Orchard in Rochester, a family owned and operated apple orchard. They grow more than 30 varieties of apples and several varieties of pears, and press their own fresh apple cider. They sell their apples and cider at their apple barn, which is open from September until the apples are gone, which usually runs into winter.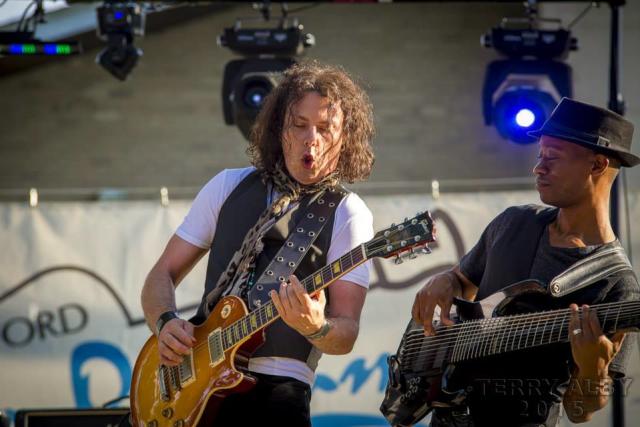 Waterford River Rhythms; photo: Terry Alby

Great Days to Go
 
Waterford River Rhythms: A music in the park concert series that has seven shows typically held every other Thursday in June, July and August.

Celebrate Waterford: Visit Main Street in downtown Waterford on July 9, 2022, to celebrate all that is Waterford. The music festival features local, original artists throughout the day. Kid-friendly fun includes circus acts, petting zoo, bounce houses, tractor track, and games. A lumberjack show will be new in 2022!

Rochester's A Day in the Country: The Rochester community invites you to a family-friendly day in the country full of Midwest hospitality, rustic charm and farm fun. Watch their website for details on the event in September 2022.

Waterford Tractorcade and Chicken BBQ: The annual Lions Club of Waterford tractorcade will roll through town October 4, 2022. Tractors in all varieties depart from Whitford Park in the morning and drive through 30 miles of countryside displaying their agricultural pride. The Lions Club also has a chicken BBQ at Whitford Park.
---
To learn more about the Waterford community, visit Explore Waterford.
Looking for more fun? Visit our Things to Do page for everything going on in Racine County!