It's Lent Season once again, and what better way to celebrate than to treat yourself to a fish fry on Fridays! This iconic Midwest tradition, frequently served with an old fashioned, is held at many restaurants and bars. Below are more than 50 fish fry locations in Racine County for you to try.
---
22840 Durand Ave, Kansasville. With a modern rustic feel, 1175 Sports Park & Eatery is an entertainment destination offering live music and comedy acts. Their menu offerings include burgers, ball park favorites, signature entrées, and daily specials including fish fry on Fridays.
6501 Washington Ave., Mt Pleasant. Tucked away inside The Lanes on 20 in Mount Pleasant, Angry Brothers is a sports bar that offers a full menu of pub fare and much more. The pub also offers more than 33 TVs to watch all of your favorite sporting events.
5006 S Sylvania Ave., Sturtevant. Apple Holler has several winter take-home dinners including Pan Fried Walleye Pike from Friday through Sunday by pre-order at least two hours in advance; carry-out only.
230 Milwaukee Ave., Burlington. B.J. Wentker's has been a staple of fine dining in Burlington since 1908. With its original structures like their Old Time American Standby bar, original tiled floor, and adorned tin ceiling, B.J. Wentker's is filled with rich history and historic mementos to make your meal one to remember.
3113 Douglas Ave., Racine. This quintessential Wisconsin tavern features fabulous fried chicken, fish fry, and award-winning old fashioneds.
1238 Lathrop Ave., Racine. Locals agree that this pizza place is one of the best spots in town for a fish fry from Thursday through Sunday. Try their thin crust pizza for a treat on all the other nights!
4234 Douglas Ave., Racine. A great place for locals to stop by after work for suds and grub, Buca's features TVs throughout, pool table, darts, arcade bowling, machines, and daily specials. 
2031 Lathrop Ave., Racine. While this spot is locally known for having some of the best wings in town, don't underestimate their awesome Friday fish fry!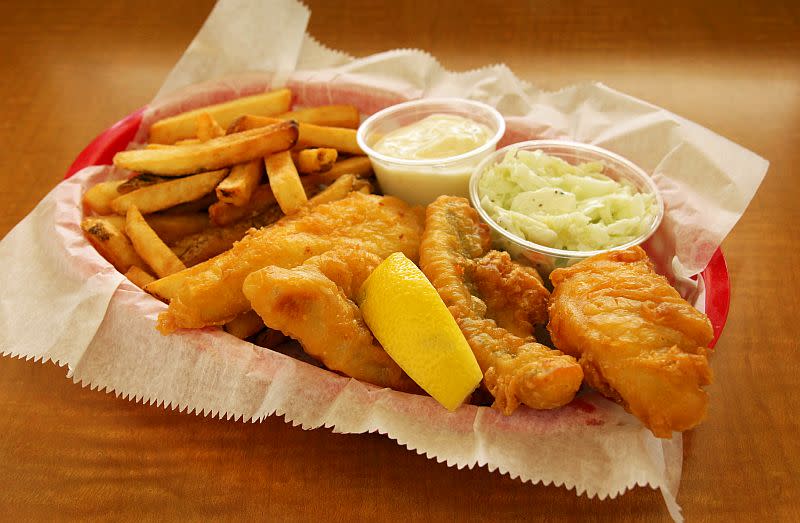 Bucket's Pub
6633 Douglas Ave., Racine. Buddy's Sports Grill has nine large screen TVs, delicious food, and ice cold drinks along with a challenging 18-hole mini golf course and lighted driving range that is a family favorite.  
300 6th St., Racine. Butcher & Barrel is known for their incredible upscale dining in a restored 120-year-old building located in the heart of downtown Racine just blocks from Lake Michigan. They use high-quality seasonal ingredients prepared from scratch including prime steaks, fresh seafood, and delicious comfort food items.
3208 4 Mile Rd., Racine. True to its name, the Mosquito Inn has been buzzing around town as an iconic spot for a fish fry in the heart of Racine.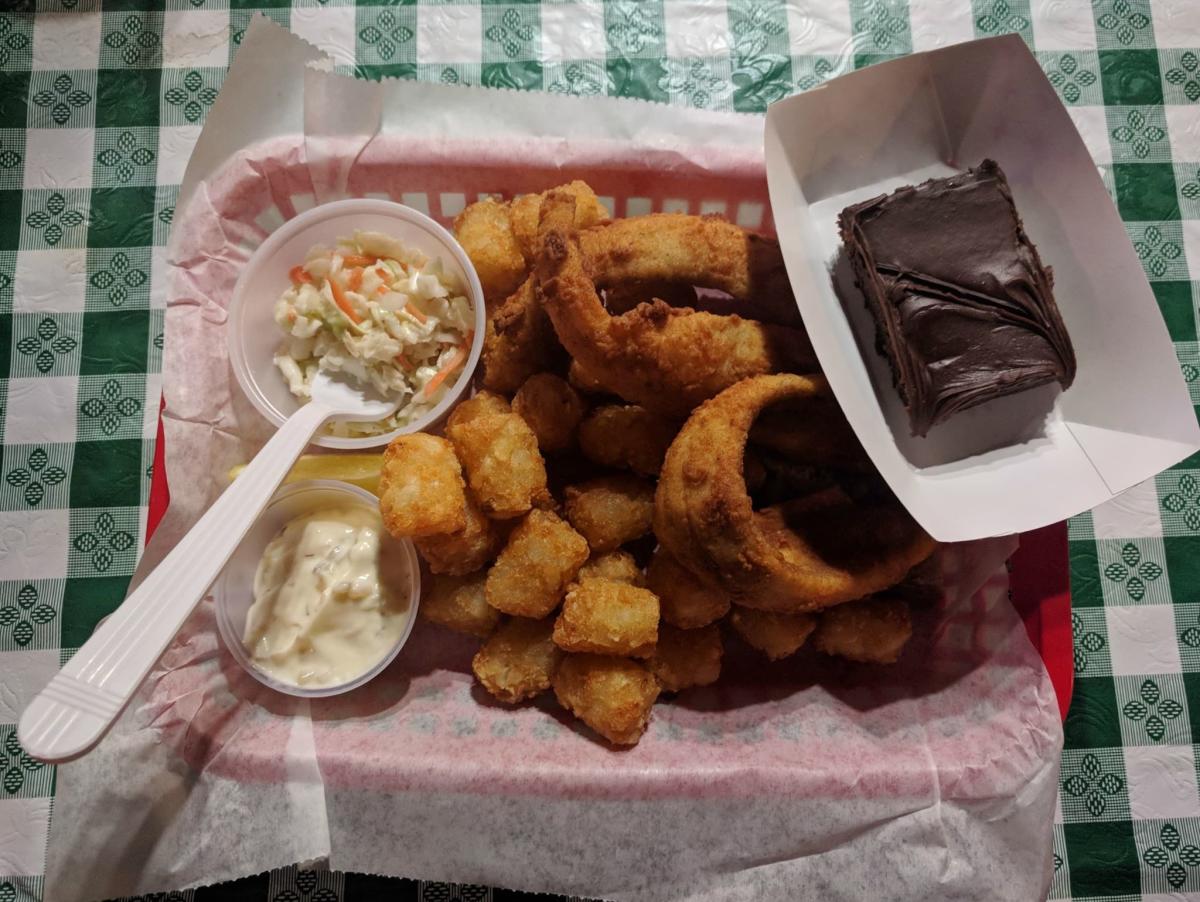 C & C's Mosquito Inn 
3311 County Hwy H, Franksville. This quaint corner bar in the heart of the Caledonia-Franksville neighborhood serves standard pub fare including ribs, burgers, and Friday fish fry with homemade sides.
920 E Main St., Waterford. Cafe 36 serves American, Moroccan and Mediterranean food. Enjoy their great Wisconsin fish fry with walleye, cod, perch and jumbo shrimp.
205 W Main St., Rochester. Walking into Chances is a little like stepping back in time. Built in 1843, their historic building has a lot to offer from their Friday fish fry and mouth watering food to their delicious old fashioned.
345 Hickory Hollow Rd., Waterford. Known for their long-standing tradition of providing unsurpassed southern cuisine and hospitality, Cotton Exchange has a unique blend of history and culinary excellence. Enjoy classic American fare including a Sunday prime rib brunch in a restored barn and banquet hall.
3839 Douglas Ave., Racine | 8300 Washington Ave., Mt Pleasant | 580 Milwaukee Ave., Burlington. A backyard barbecue destination that features BBQ ribs, specialty burgers and sandwiches, woodstone pizzas, juicy steaks, and so much more.
28023 Kramer Rd., Waterford. Crossover Cantina & Eatery is a full-service restaurant and bar serving breakfast, lunch and dinner with an emphasis on authentic Mexican cuisine and American fare.
1317 4 Mile Rd., Caledonia. Dannys Meats & Catering offers several delicious Friday fish fry dinner options; carry-out only.
1600 Albert St., Racine. Known for being home of the world famous pizza burger, DeMark's Bar & Restaurant serves delicious fish fry daily.
11402 County Road G, Caledonia. The Depot is your cozy, local restaurant and tavern located on County Road G (at the tracks). Famously serving delicious broasted chicken dinners, gourmet slider sandwiches, tavern-style fish fry, and an iconic Wisconsin supper club menu. Pair their fish fry with one of their outstanding bloody marys!
600 Main St., Racine. This game day hangout located across from Monument Square in downtown Racine features familiar pub fare, beer, wine, and cocktails.
1220 N Ohio St., Racine. A local family-owned, fast-casual restaurant offering a modern relaxed atmosphere with dine-in, drive-thru, take out, and online ordering options available.
232 N Milwaukee St., Waterford. Steaks, seafood, and cocktails served at a casual riverfront spot with a seasonal roof deck located on the beautiful Fox River in Waterford.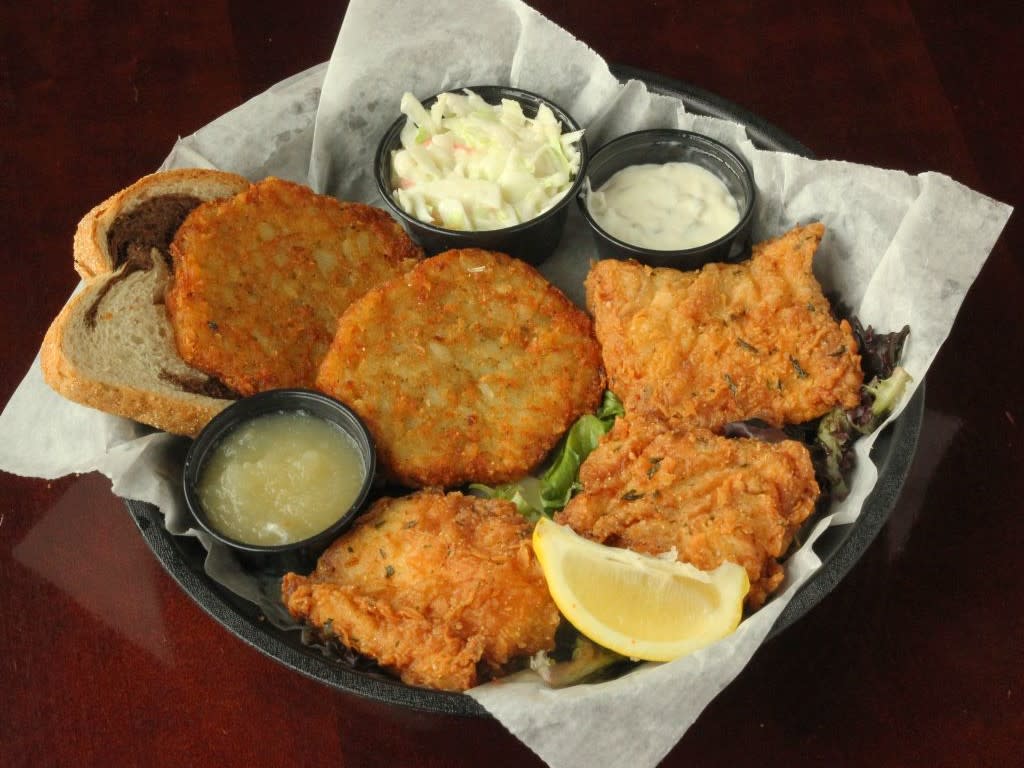 Doc's on the Fox
5121 Douglas Ave., Caledonia. This 1950s-style diner serves up traditional American breakfast eats, burgers, sundaes, and more in the northern Racine community.
1909 N Beaumont Ave., Kansasville. An ideal stop for snowmobilers hitting the nearby trails, The Dover Inn is the Kansasville spot for pub fare and hearty favorites. 
3207 Washington Ave., West Racine. The first bar in over a century in the Western Racine neighborhood, Dunks Public House's prohibition theming is the perfect way to celebrate the end of a dry season for this community. Enjoy game day pub favorites like cheese curds, onion strings, flame-grilled burgers, and jumbo soft pretzel boards.
319 Hamilton St., Racine. The Eagles Club serves a Friday night fish fry featuring lake perch, cod and pike along with scallops and shrimp; dine-in or carry-out.
356 N Pine St., Burlington. Part of the Burlington community since 1918, Gabby's Palace is a local spot for classic fish fries on Fridays that is unapologetically true to its Wisconsin small-town eatery style.  
9809 Durand Ave., Sturtevant. A staple bar and grill named after the tracks right behind the building, the Hiawatha Bar & Grill serves up hearty apps, 'Watha Wings, and more on their dine-in menu. Stick around for a drink as every time a train passes, they spin a raffle wheel. If it lands on the same number as your seat, you win what you're drinking!
277 Sheridan Rd., Racine. Since 1954, the HOBNOB has been the signature "Wisconsin Supper Club" experience for Racine County. From their classic old fashioned and extensive wine list to their spectacular prime rib, fresh seafood, and bistro-style food including the Wisconsin traditional Friday fish fry, this is the place to get that retro feel on the shores of Lake Michigan. Be sure to try their signature ice cream drinks for dessert.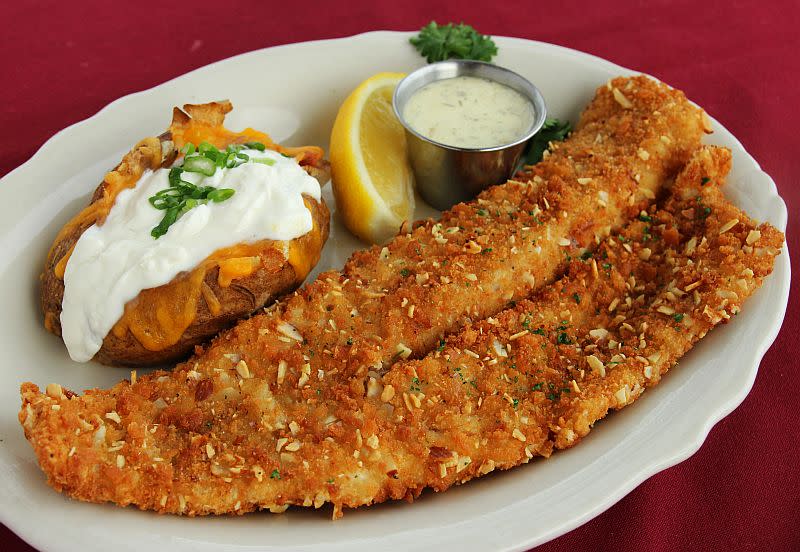 HOBNOB
4713 Douglas Ave., Caledonia. Honey B's II is a breakfast and brunch restaurant that serves all you can eat fish fry on Fridays.
9002 6 Mile Rd., Caledonia. With friendly bartenders and great hometown food, Husher Pub & Grill is home of the All-You-Can-Eat Taco Tuesdays and serves a fabulous Friday fish fry. 
231 Main St., Racine. An Irish pub with an attitude! Downtown Racine's Ivanhoe serves up great pub fare staples with an Irish flare.
9825 Kraut Rd., Franksville. Named one of the best fish fries in Racine County for years, Joey's West is where Franksville gets its fix. Pair their fish fry with their homemade dessert of the day!
920 Erie St., Racine. Joey's famous fish fry is served in downtown Racine, too. Served with a side of sand dollars to keep the Yardarm tradition afloat in this nautical themed locale.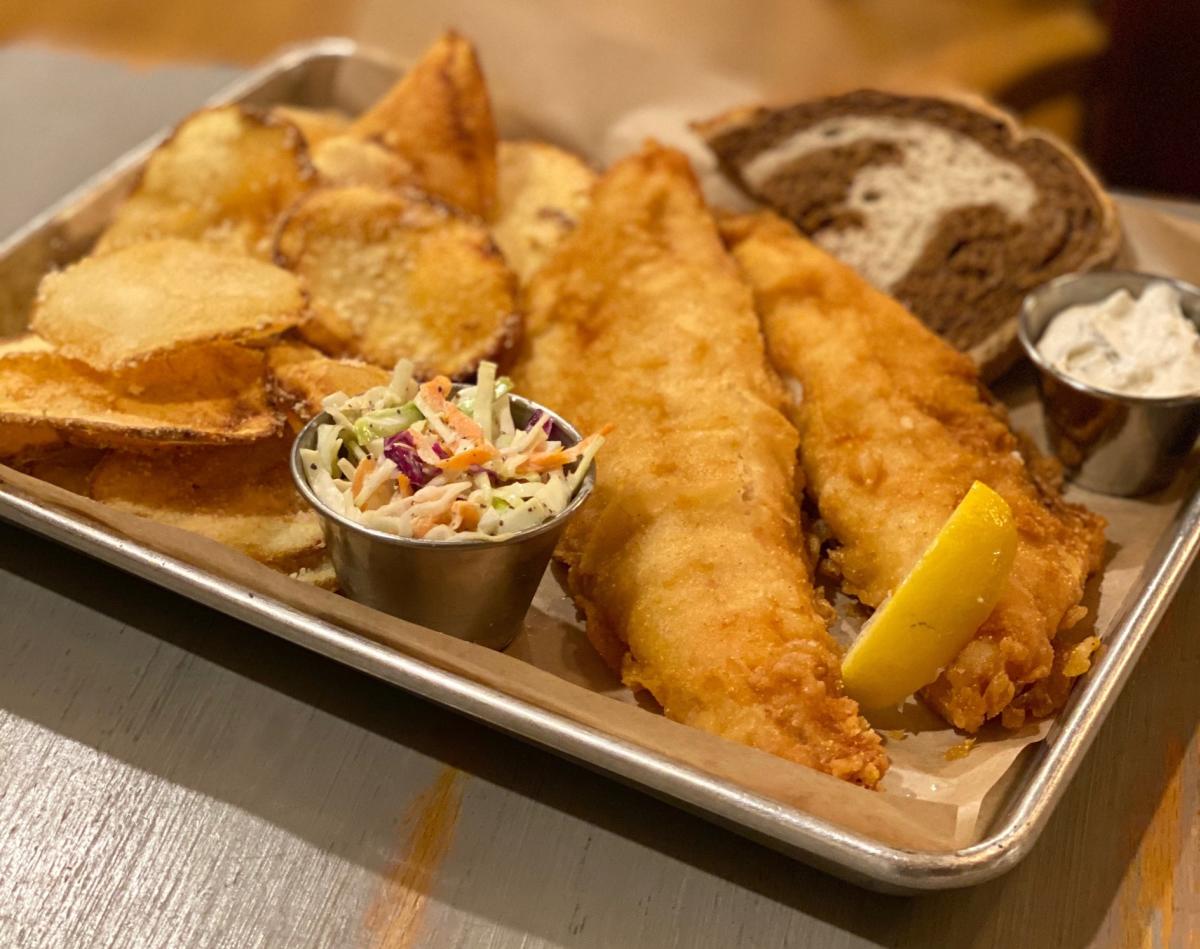 Joey's Yardarm
864 Milwaukee Ave., Burlington. Lucky Star Pub & Eatery is a down-to-earth outpost in Burlington featuring classic American and Mexican dishes, plus cocktails and outdoor seating.
1300 N Main St, Racine. In addition to fish fry, Main Hub serves up an entire menu of their specialty corn dogs every day at their downtown Racine location.
2149 N Green Bay Rd., Racine. Meadowbrook Country Club Restaurant is open to the public. Featuring American inspired dishes from crafted specials to your favorite pizza, Meadowbrook serves a range of tastes and occasions.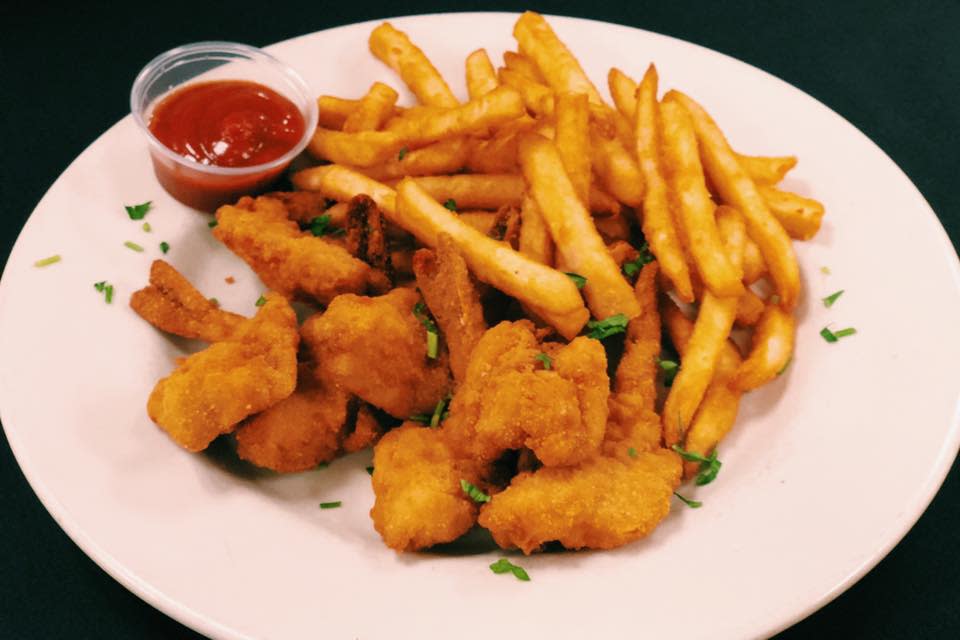 Meadowbrook Country Club
3101 Eagle Rd., Kansasville. Michael's On The Lake is casual fine dining at its best. Enjoy their incredible steak and seafood dinner, Friday fish fry, or very tasty pizza inside their rustic dining room or while looking out onto a beautiful view of Eagle Lake. 
6214 Washington Ave., Racine. Conveniently located on Racine's west side in the Western Village Mall, Mike & Angelo's serves a cozy, casual atmosphere with a full-service bar.
327 Main St., Racine. Ms. Betty's Kitchen is a great spot to catch a catfish dinner on Fridays served up soul food style. Note: Mrs. Betty's Kitchen is temporarily closed due to staffing.
4301 Douglas Ave., Racine. Known for their charbroiled ribs, Oh Dennis! is a simply delicious nook in the city of Racine. 
618 6th St., Racine. Pepi's Pub & Grill is the evolution of Pepi's Deli, Home of the Original Bambino. The restaurant provides messy, delicious food while adding a vast array of craft beers and spirits, maintaining the integrity of a high-class dive bar.
1015 Main St., Union Grove. Known for their homemade pizzas and Racine County's best hot wings, the R&R Club/Pizza in Union Grove also serves a variety of options for Friday fish fry.
2 Christopher Columbus Causeway, Racine. Reefpoint Brew House offers a varied menu and terrific views of Lake Michigan and Racine's ReefPoint Marina. In addition to a Friday fish fry, other menu items include sandwiches, soups, salads, and entrees plus an extensive selection of craft beers.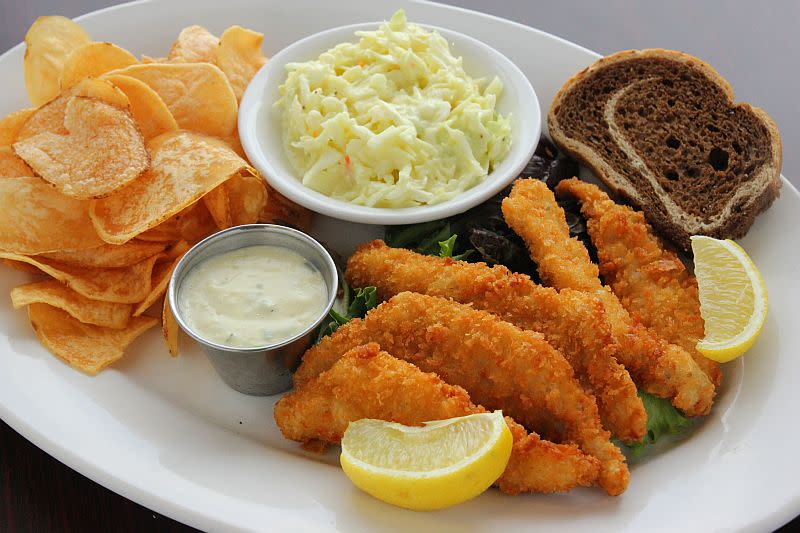 Reefpoint Brew House
3458 Rapids Dr., Racine. Racine's newest BBQ establishment, Richard's is home to grilled meats, sandwiches, and other bar favorites.
322 6th St., Racine. Roberta is a New American restaurant steeped in Southern tradition that serves fresh and inviting dishes and signature craft cocktails.
14001 Washington Ave., Sturtevant. Route 20 hosts live music and entertainment with regular national and regional acts on stage. Their restaurant is open daily serving breakfast, lunch and dinner with a full bar. The patio is open seasonally.
2203 De Koven Ave., Racine. A friendly neighborhood corner bar offering up great food for lunch and dinner and cold beverages.
597 N Pine St., Burlington. Rustic Roots is a farm-to-table inspired gastropub in downtown Burlington that serves delicious and creative dishes with a focus on locally sourced ingredients. They offer a wide variety of craft and domestic brews, wine, and handcrafted cocktails in a country-chic atmosphere.
4915 Washington Ave., Racine. Scores Sports Bar & Grill in Racine is where you can can eat, drink and socialize while catching the latest games.
6025 Douglas Ave., Caledonia. Consistently named one of Racine's Best by The Journal Times, Sebastian's provides quality food and atmosphere with their beautiful displays of both land and sea cuisine. Enjoy fresh seafood, outstanding steaks or shared plates in their comfortable dining room. They have an award-winning wine list and craft cocktails.
6022 Douglas Ave., Caledonia. Soup Shanty offers a rotating menu of soups daily alongside fresh sandwiches and salads. Their menu options are perfect for a mid-day lunch stop or dinner when you want to cozy up with a cup of soup in winter. Friday fish fry is also available.
6825 Washington Ave., Mt Pleasant. The Summit is the perfect setting for casual-fine dining. This supper club offers a wide selection of steaks and seafood well as a popular Friday fish fry.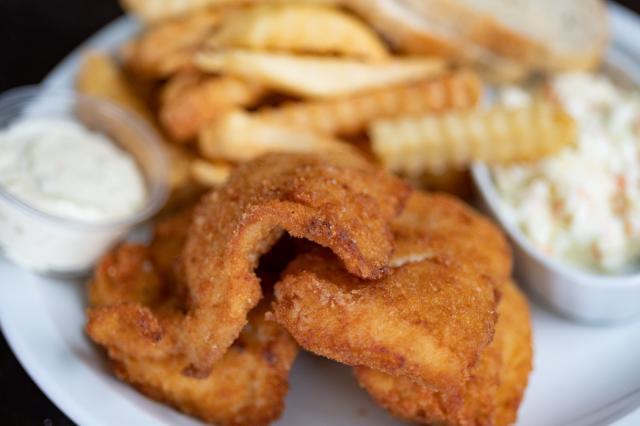 ​The Summit Restaurant and Cocktails
20715 Durand Ave., Union Grove​. From the handcrafted iron tables and concrete bar to the rough sawn barn wood and beams, TinCAN Roadhouse was created to provide a place where you can feel relaxed whether in jeans and boots or a suit and tie.
611 Wisconsin Ave., Racine. Burgers and creative pub fare pair with a full bar including lots of beer in a compact tavern setting.
31100 Weiler Rd., Burlington​. The Waterfront on Brown's Lake is full of Wisconsin charm and friendly faces. With a variety of menu options including filet mignon, burgers, wraps, and pizza, enjoy a cozy dinner with a view of the lake.
2148 Mead St., Mt Pleasant. Since 1921, Wells Brothers has been preparing Italian dishes utilizing the same recipes passed down through the generations—all using fresh quality ingredients. 
180 E Chestnut St., Burlington. Planted prominently in Burlington's historic heart, Zumpano's quietly provides the quintessential dining experience. 
---
Hungry for more? Visit our Food Guide to everything delicious in Racine County.