Celebrate the magic with us this holiday season in Racine County! These events and activities will spark warm memories to last a lifetime.
Free Meter Parking in Downtown Racine: The City of Racine and the Downtown Racine Corporation have teamed up to coordinate free meter parking on Saturdays, December 4, 11 and 18 to help encourage the community to shop and dine in downtown and support small business owners this holiday season. With 31 new businesses that have opened in 2021, the vast variety of new shops and restaurants to explore has never been better. Please note, parking time limits will be enforced via tire marking to ensure the turnover of spaces. Most meters in downtown are currently four hours.
---
Christmas Carnival of Lights through January 1, 2022 (excluding Christmas Day)
8425 State Road 38, Caledonia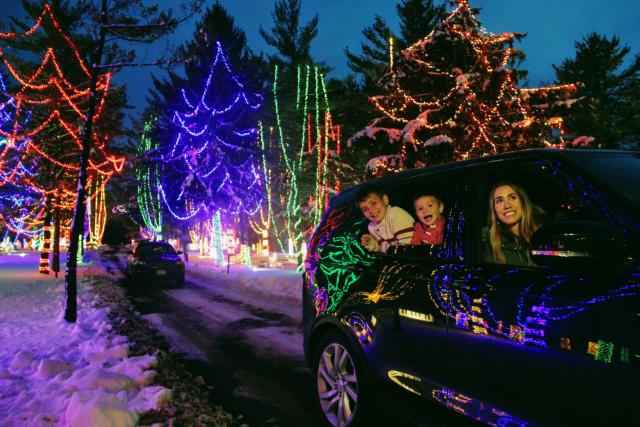 For the 12th year in a row, families can see one of Wisconsin's largest drive-through light displays filled with more than two million twinkling lights synchronized to music. The Carnival of Lights is organized and run by local, family-owned and operated Jellystone Park in Caledonia.
Witness unique moving light displays including a 200-foot-long drive-thru light tunnel from the comfort of your own vehicle. Another fan-favorite seating option includes riding in Santa's Giant Sleigh, which comfortably seats 43 guests and is the most spectacular way to view the moving lights high in the trees. Santa's Sleigh is a great option for large families that want to experience the light show together. New on Sundays, take a sleigh ride with the big man himself! Ride with Santa and sip on handcrafted hot cocoa. There is also a Golf Cart Holiday Train that offers a personalized open-air experience.
Hours are Sunday to Thursday from 5 to 9 p.m., and Friday and Saturday from 5:00 to 10:30 p.m. General admission entry fee for carloads with up to eight people is $30, large passenger vans is $45, and buses/campers is $55. Tickets are available online only. Pricing for larger groups and reservations for Santa's Giant Sleigh or the Golf Cart Holiday Train can be found online.
---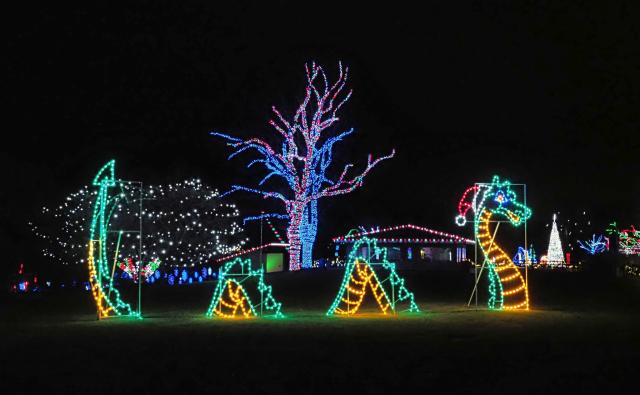 Marvel at the sight of dazzling illuminations from the safety and comfort of your own vehicle! Drive through the Zoo's enchanting light displays of delightfully decorated trees, charming characters, a 96-foot tunnel with an incredible show of dynamic designs, and more. Perfect for guests of all ages every night from 6 to 9 p.m. Only $5 per person and FREE for children ages 2 years and younger! (Cash or credit card accepted at the gate only.) Click here for details.
Kiwanis Holiday Lights – In addition, enjoy the bright Kiwanis Holiday Lights that line the outer gate of the Racine Zoo, which are created and maintained by area Kiwanis Clubs members. A family favorite for generations, the larger than life light displays surrounding the pond are FREE to see from the streets of North Main Street each day through the holidays beginning at 5 p.m.
---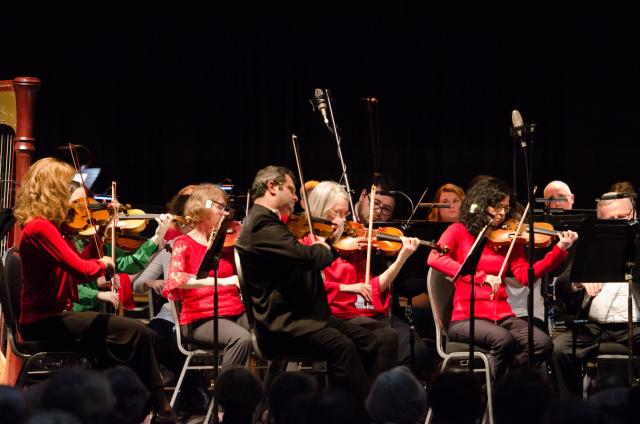 The Racine Symphony is one of Wisconsin's oldest symphony orchestra in continuous operation. Since its establishment in 1932, more than 400 concerts have been held in various spaces including schools, colleges, churches, historical locations, and cultural attractions. 
Tradition is very important to all of us and the musicians of the Racine Symphony Orchestra sorely missed performing for you last December. Celebrate this holiday season rejoicing their return with this festive concert on December 3 at 7:30 p.m.; doors open at 6:30 p.m. Purchase your tickets here.
---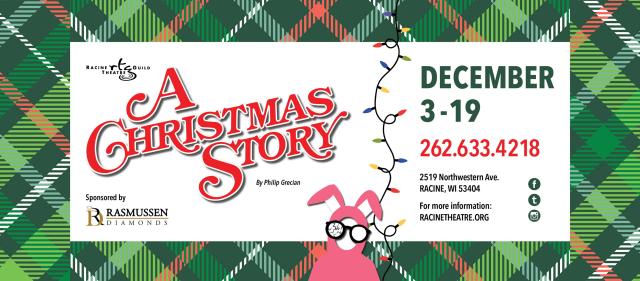 After a year and a half without any mainstage plays and musicals at the Racine Theatre Guild, "A Christmas Story" will bring nostalgia, humor and heart to the stage this holiday season, December 3-19.
Ralphie Parker only has one wish: to wake up Christmas morning with the coveted Red Ryder Range Model Carbine Action BB Gun under his tree. While he plans and schemes to ensure it arrives, he's met with the same response again and again, "You'll shoot your eye out!" One of the most iconic holiday movies hilariously comes to life on stage, complete with all its pink-bunny-suit, glowing-leg-lamp, triple-dog-daring glory.
"A Christmas Story" was last performed at Racine Theatre Guild in 2003. It follows the 1983 film everyone has grown to love, but the stage version features Ralph as an adult overseeing and narrating the many holiday memories of himself, Ralphie, throughout his childhood. Inspired by humorist Jean Shepherd's childhood, it is a beloved story across generations.
Tickets are $18 for adults, $16 for seniors (age 62 and older), and $13 for students (age 21 and under). Discounts are offered to subscribers and groups of 12 or more. View their website for dates and ticket information.
---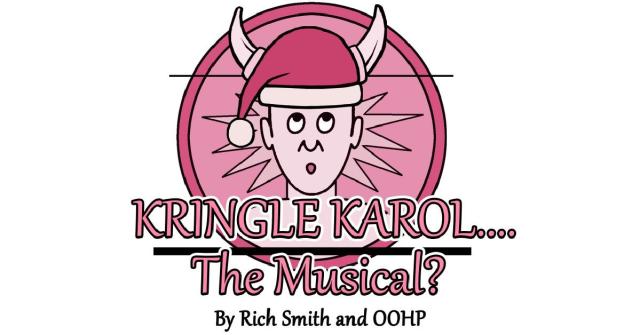 Over Our Head Players operate the Sixth Street Theatre in downtown Racine. Kringle Karol, a new installment in the Kringle series, takes a time honored holiday story and adds the OOHPie "TWIST" ( Dickens pun intended). The song parodies, puns, local jokes, and Racine references return to help the most curmudgeon Yopanson baker yet discover his holiday spirit.
Enjoy the Over Our Head Players perform "Kringle Karol.... The Musical?" from December 3 through 31. Visit their website for dates and ticket information.
---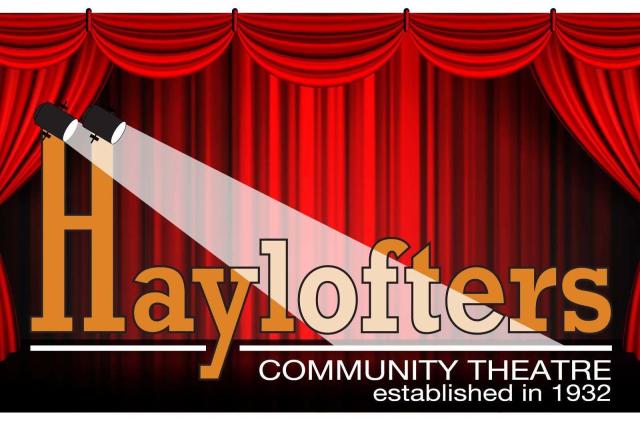 Malt House Theatre, home of the Haylofters, is one of Wisconsin's oldest, continuously running community theatres. Located right on the beautiful Fox River in Burlington, Malt House Theatre presents "Good Old Country Redneck Christmas" on December 3, 4, 10, and 11 at 7:30 p.m. and December 5 and 12 at 2:00 p.m. Visit their website to order tickets.
---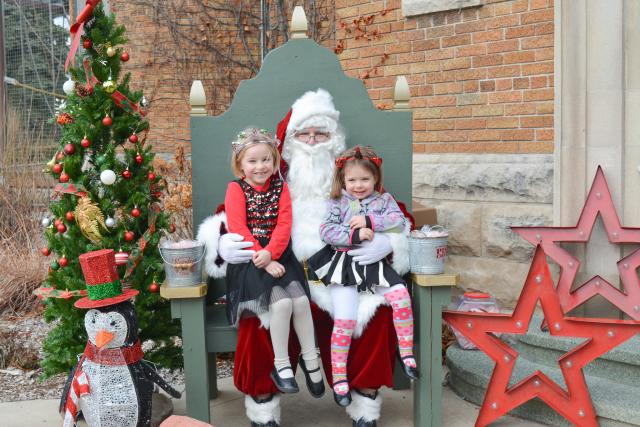 Celebrate the holiday season with a $5 photo with Santa at the Racine Zoo! Dress up the little ones for a commemorative photo on December 4 from 10 to 11 a.m. and 3 to 4 p.m. Photos will be printed onsite and you can take them home with you the same day.
Zoo admission is not included. Visit the Zoo website for hours and admission rates.
---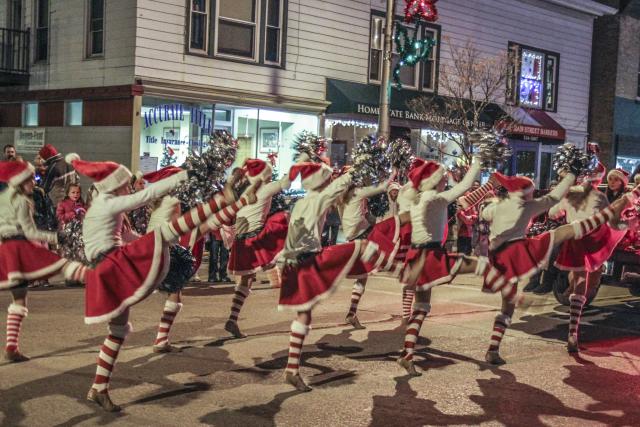 Enjoy a winter wonderland Christmas parade, tree lighting, fireworks, and visits with Santa on December 4 as hundreds of Waterford and surrounding area residents celebrate Christmas in the streets of downtown Waterford!
The parade begins promptly at 5:30 p.m. when the VFW steps out to lead the march through downtown as children and families excitedly wait for the colorful, sparkling lights and, of course, candy. Many businesses and organizations participate with brightly lit floats and other vehicles. Weather permitting, the area schools play music while marching, and gymnasts tumble in the streets. Santa and Mrs. Claus always make an appearance and you can visit them in their new Christmas Chalet after the parade at Ten Club Park.
Ice Sculpting – Before the parade from 2 to 4 p.m., watch the Ice Sculpting Show at 5th and Milwaukee Streets as Art Below Zero's local artist transforms blocks of ice into a magnificent seven-foot snowman! Hot cocoa will be provided by Hometown Table Family Restaurant and Community Group Insurance. This FREE family event for all ages will be led in a Christmas sing-a-long by Eric Carlson and his red piano.
---
Breakfast with Santa December 4
Waterford Union High School Cafeteria, 611 W. Main St., Waterford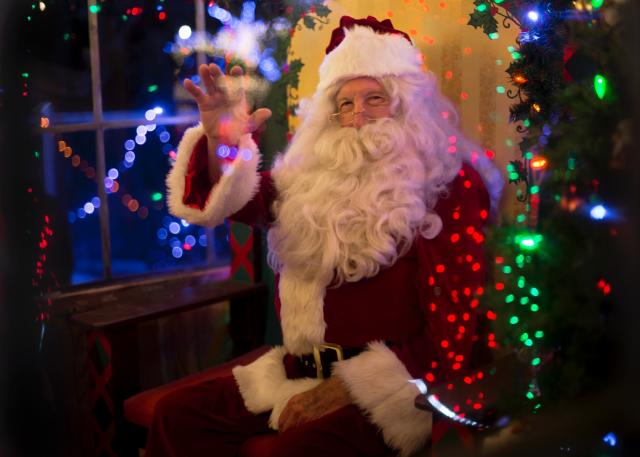 The Lions Club of Waterford presents Breakfast with Santa at the Waterford Union High School cafeteria on December 4 from 8:30 to 11:00 a.m. The event also includes letters to Santa and craft activities, a free gift for mom and dad in Santa's Secret Workshop, holiday entertainment, and more.
Advance purchase tickets are $6 and available throughout Waterford at Associated Bank, Community State Bank, Equitable Bank, and River City Lanes. Limited tickets will be available at the door for $8. Visit the Lions Club of Waterford Facebook page for more information.
---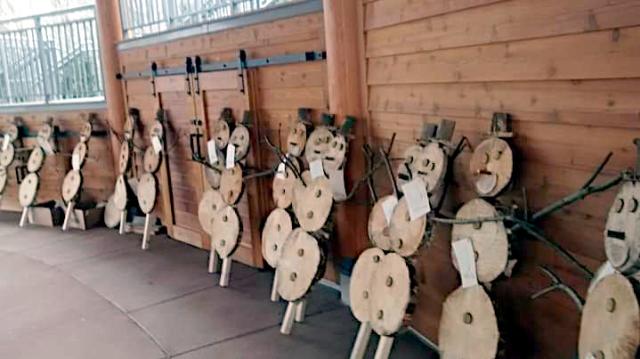 Make your festive snowman friend with wood from Seno Woodland Management Center Tree Farm! Whether you are making one to take home or as a gift for a loved one, they're sure to put a smile on your face just as you put a smile on theirs. There will also be papermaking to create handmade cards for the holidays or to give along with your new snowman to a friend or family member. All materials and tools will be provided for use along with hot cocoa and holiday cookies for refreshments.
The workshop will be held December 4 from 10 a.m. to 12 p.m. Cost is $30 per snowman; a family or group can work together to assemble their snowman. Spots are limited, so register today.
---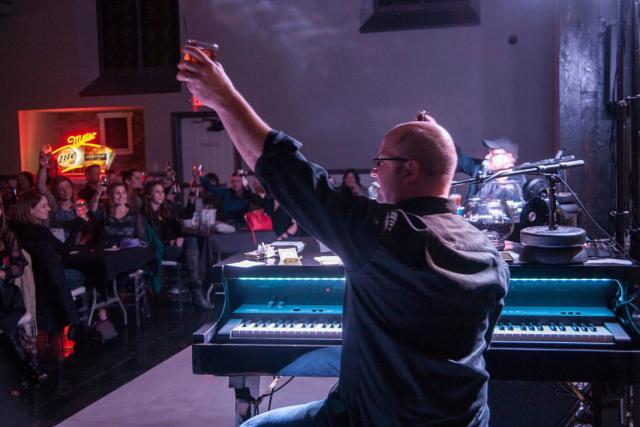 The NEW Piano Guys are bringing their musically entertaining talents to Waterford with their signature show DUELING PIANOS! Join them December 9 from 5:30 to 10:00 p.m. for one of the most entertaining musical acts in Wisconsin! From Jim Croce to Billy Joel, Whitney Houston to Britney Spears – you name it, they can deliver it!
Dueling Pianos is a lively and interactive request-based show. Your song selections drive the show! Such a fun event you won't want to miss! The first show sold out in only two weeks, so get your tickets now before they are gone! Purchase tickets here.
---
Join Downtown Racine Corporation for their annual Kris Kringle Tour on December 11 from 11 a.m. to 2 p.m. At this FREE event, more than 30 participating locations will have kringle from O&H Danish Bakery to sample--make sure you get there in time before they are gone!
This event celebrates a Racine delicacy, the kringle, and our great downtown businesses. Many businesses will be hosting specials and promotions just in time to get last-minute gifts for the holidays. Download the map with participating locations.
---
Burlington Ice Festival December 11-12
Wehmhoff Square Park, 355 N. Pine St., Burlington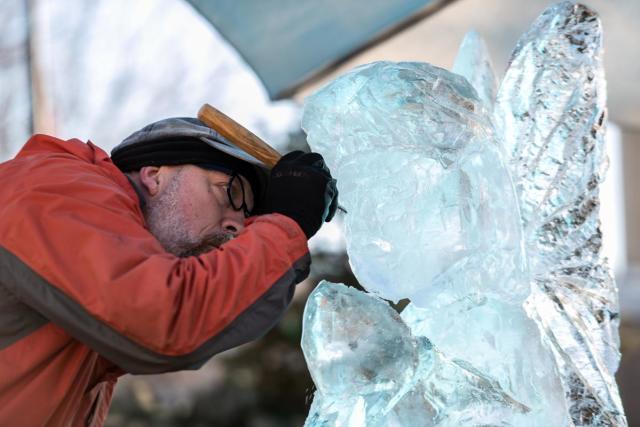 Live sculpture carving, a favorite viewing attraction since 2016, showcases ice carvers using hand tools transforming massive blocks of ice into an array of giant masterpieces at Wemhoff Square Park in downtown Burlington on December 11 and 12. This FREE family-friendly event will also host the Wisconsin State Ice Carving Competition as part of the 2021 Ice Festival.
Each sculpture will be carved from a 300-pound block of ice that has been frozen in a special process to ensure that the blocks are crystal clear. The blocks are 10 inches thick, 20 inches wide and stand 40 inches tall on a wooden stand. When the competition is concluded, the sculptures are illuminated from underneath, which is a spectacular sight to see for days! The carvings will be completed December 11 by 3:00 p.m.
Along with watching the carving competition, visitors can spend the day in downtown Burlington taking a horse-drawn wagon ride, seeing live reindeer, meet and greets with Santa Claus, enjoy a bonfire and s'mores, and more! Click here for details.
---
Full Cold Moon Trail Escape December 18
Seno Woodland Center, 3606 Dyer Lake Dr., Burlington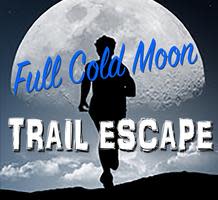 Hit the trails on this Full Moon and perhaps enjoy the Moon Shadows as you run from the woods to the prairie on December 18 from 4:30 to 7:30 p.m. Seno Conservancy K/RLT in Burlington is the home for this first year event and with over six miles of trails, will select the perfect route based on the trail conditions.
This will be a multi-loop course with each loop being an estimated 2 to 2.5 miles. You will have the option to run between 1 to 4 loops, so distances will be 2, 4, 6, or 8 miles. The trail is mostly double wide with numerous hills throughout as you run through the woods and open prairie.
Once done, a bonfire, hot drinks and food will be awaiting you. The social time you create could perhaps be the highlight of the evening. The number of entries for this event is limited to 60, so don't delay and register today.
---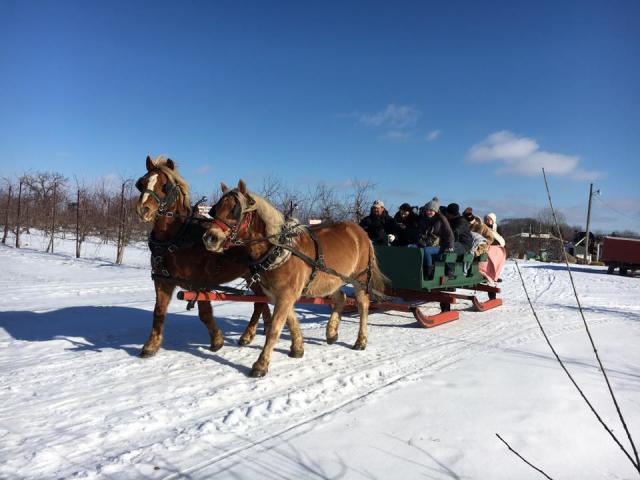 Anytime there is snow on the ground, Apple Holler offers horse-drawn sleigh rides that will make you feel as though you stepped inside of a glistening winter snow globe. The magical sleigh rides are pulled by their beautiful Haflinger horses and take you on a private orchard tour.
Within the enchanted forest, you will marvel at the charming hardwoods, many of which are over 100 years old. The sound of the horses' hooves traveling through crisp, white snow along with longings of simpler times makes our sleigh ride adventure a true winter wonderland experience.
Advanced reservations are required. Visit their website for details.
---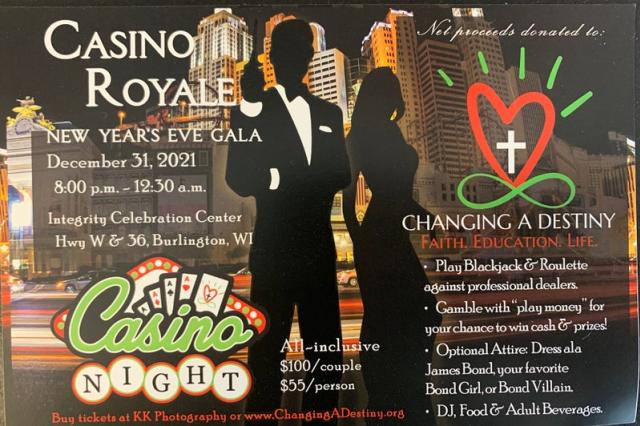 Integrity Celebration Center in Burlington is hosting a fundraiser gala on December 31 from 8:00 p.m. to 12:30 a.m. Play Blackjack and Roulette against professional dealers, gamble with play money for a chance to win cash prizes, enjoy appetizers and adult beverages, dance to DJ entertainment, and more.
Tickets are $100 per couple and $55 per individual. Net proceeds will be donated to Changing A Destiny. A portion of the funds will go towards a family resource center in Burlington called Life Choices along with building a school in Africa.