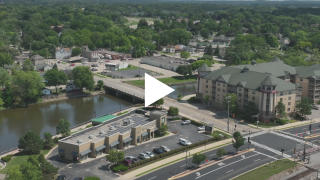 Welcome to the City of Burlington!
Where nature's beauty, historic neighborhoods, and a charming downtown collide.
Where winding rivers and bountiful treelined boulevards compliment the beauty of this Main Street USA community.
A community of people who wave to each other. Who stop what they're doing to catch up or meet someone new.
Burlington is a community where two wheels or two feet will take you wherever you need to go.
Whether that's spending the afternoon shopping (downtown), enjoying a day of celebration (wedding venues), or venturing out to discover something or someplace new (Liar's Club or Low Daily).
Burlington is home.
Home to the Nestle Chocolate Factory.
Home to the World's Best Burger - so they say.
Home to the NFL's third winningest quarterback.
Home to new adventures and old pastimes.
Whether staying for a weekend or a lifetime, Burlington is where you'll feel at home.
Visit the City of Burlington today, only in Racine County.
---
Looking for more fun in Racine County? Visit our Things to Do page!