Today more than ever, focusing on staying well on both a mental and physical level is playing a major role in day-to-day life. Taking time to decompress is not only a lifestyle, but a positive impact on both yourself and others.
Yoga and other recreational activities have been proven to enhance your health, increase strength and flexibility, and reduce symptoms of stress, depression and anxiety. In Racine County, there are plenty of places to find your zen with yoga classes and activities. Here's our list of some that will bring calm to your day. Namaste!
---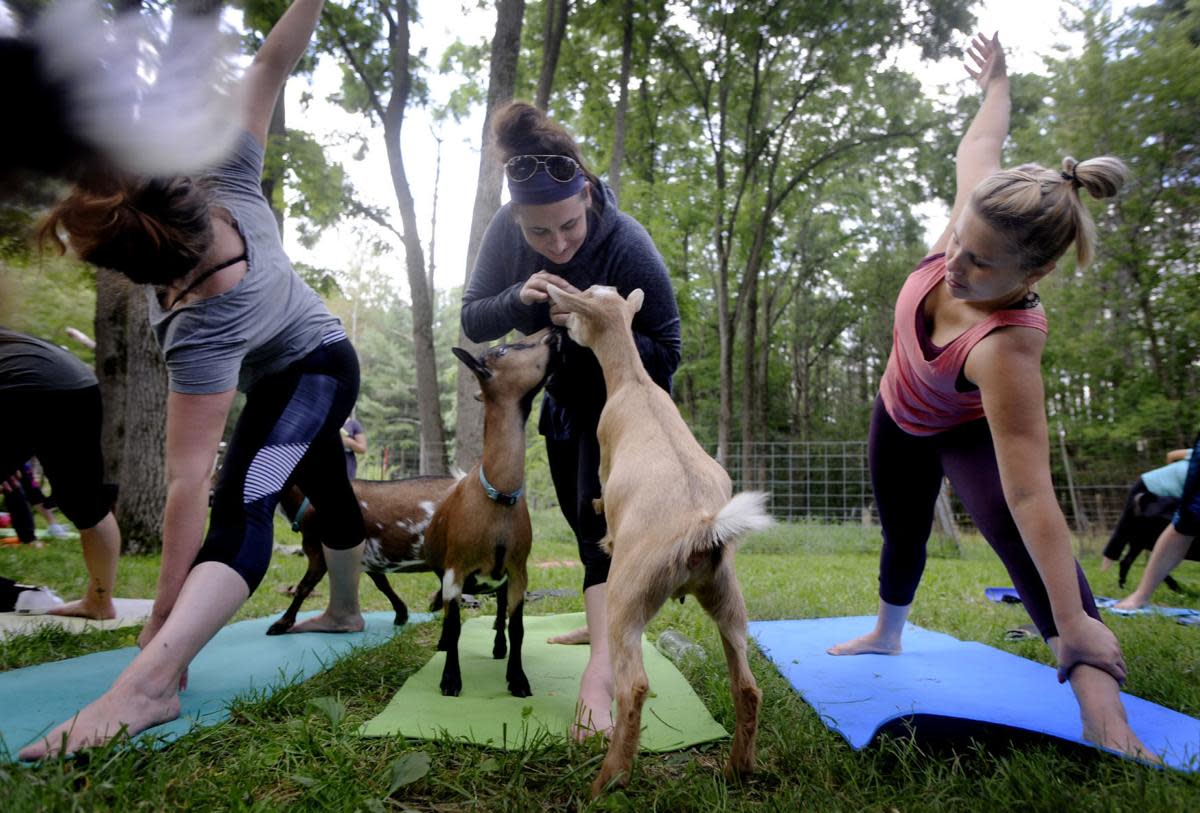 Enjoy Gentle Yoga Classes while socializing with friendly dwarf goats! Goats are peaceful, personable animal therapy companions that add humor and playfulness to our yoga practice. Stretch and strengthen, and experience the benefits of bringing yoga, nature and loving animals together.
Classes will be held June 4 to August 12. Children are welcome, but they should be able to make it through an hour-long yoga class. Bring a yoga mat or towel. Classes are held in the scenic woods, so bug spray is recommended. Also, the goats love hair, so bring a hair tie to secure your hair if you do not want goats to nibble on it. All classes are one hour and start on time, but feel free to arrive 15 minutes early to shop and snuggle. Click here for more information and to register.
---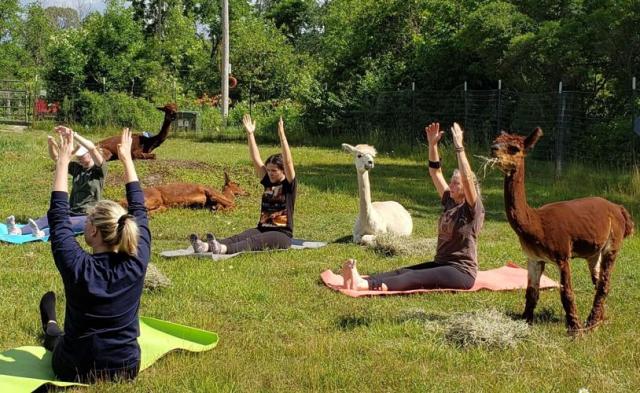 Unlike goat or dog yoga, alpacas won't climb on you; however, they may eat grass or lie down near you if you are calm. Yoga and alpacas seem to naturally go together! When you arrive at the Eco-Justice Center, staff members will introduce the alpacas and tell you a little about them. You'll have the opportunity to take a selfie with an alpaca before class begins. The instructor will teach gentle yoga, which is beneficial for both beginners and experts. Join the herd for a relaxing start to your day!
Classes will be held June 25, July 9, and August 20. Advance registration is required. Click here for more information and to register.
---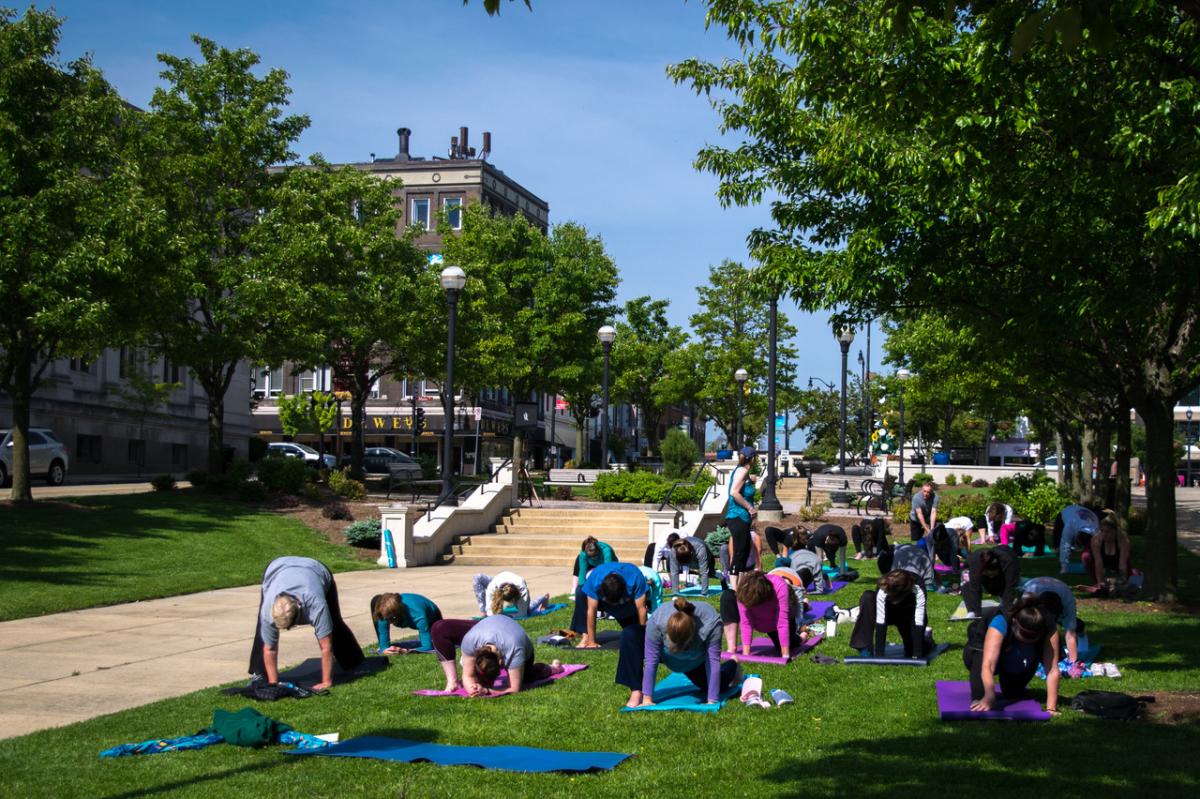 Returning for a fifth year, Downtown Racine Corporation presents Bend and Brew, a free outdoor yoga at Reefpoint Marina Park's grassy park area at the east end of Christopher Columbus Causeway overlooking beautiful Lake Michigan. Lead by Yoga Roots Racine, yoga sessions will be held Wednesday nights and Saturdays mornings from June 1 to October 12. After every session, participants will receive a certificate to use towards a free coffee or beer at participating businesses.
With Lake Michigan as the backdrop, spend time each week with a relaxing hour of yoga. Sessions will be lead with people of all ages and skill levels in mind. Bring your own yoga mat or towel, and water. Registration is not required, but plan to arrive 5-10 minutes prior to start time to sign-in. Although this is a free yoga session, there is a recommended donation of $5 to go towards the instructors from Yoga Roots Racine.
---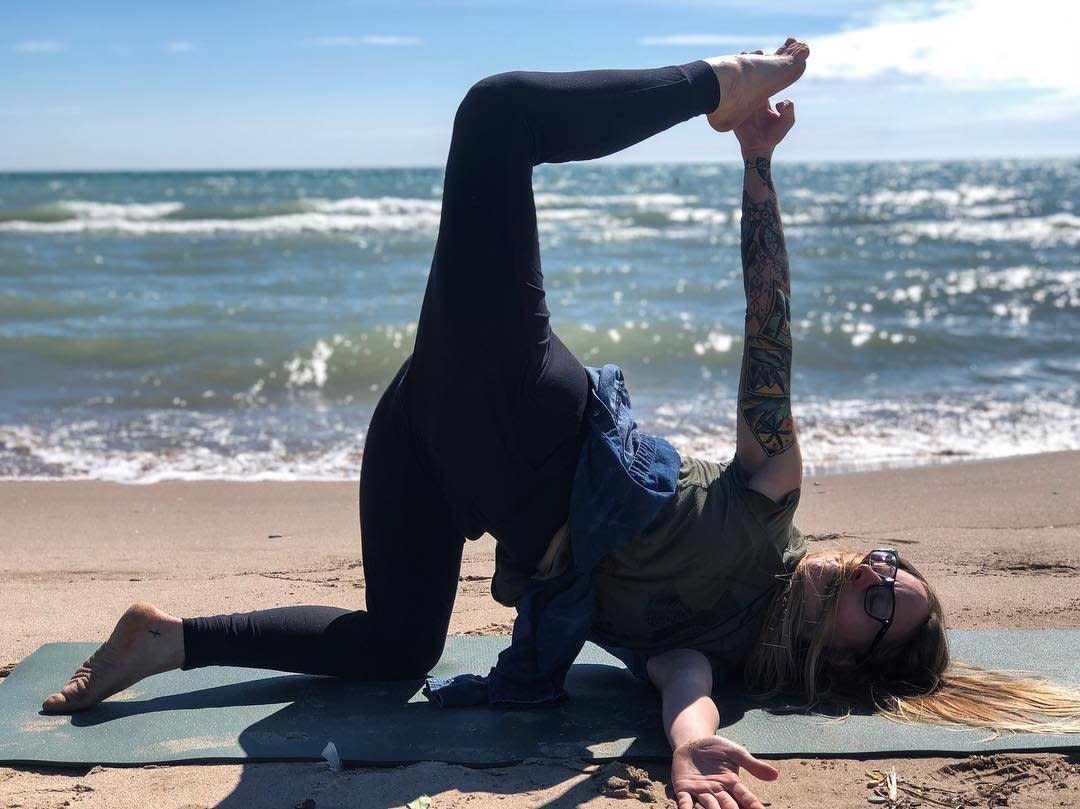 Featured on national lists such as "Best Beach in Wisconsin" (FamilyDestinationsGuide.com), "Best Freshwater Beach" (USA Today), and "Top 10 Family Friendly Beaches" (Parents magazine), North Beach is a hit among residents and visitors alike to catch some waves and some rays in the summertime. Blue Wave certified North Beach offers more than 50 acres of beautifully groomed sand and shoreline with plenty of space to spread out and find your zen.
---
Yoga Studios in Racine County:
Enlightened Living Center
125 E. State St., Burlington
Live Out Loud Fitness and Health
203 W. Main St., Waterford
Peace Tree Yoga
125 E. State St., Burlington
Riverside Studio
101 N. Front St., Rochester
Wisconsin Power Yoga
164 E. Washington St., Burlington
Yoga Roots Racine
518 College Ave., Racine
---
Looking for more fun? Visit our Things to Do page for everything going on in Racine County!